CommonBond Loan Refinancing and Consolidation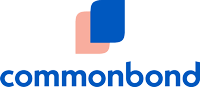 CommonBond was founded by 3 grad school students tired for paying high interest rates on their student loans. Since then, we've funded over $100 million in loans and have helped thousands of students, graduates and parents save.
Parent PLUS — You invested in your child's education, now invest in yourself. Refinance Parent PLUS loans with CommonBond and you could save thousands.
Features & Benefits
CommonBond is changing the student loan process through:
Savings
You pick the loan type (variable, fixed, hybrid) and term that works best for you and your situation. With rates as low as 2.48% APR (with auto pay) our borrowers save over $24,000 on average.1,2
Simplicity
Our easy, pain-free application can be completed entirely online. Get a no-obligation rate quote in minutes.
Service
Customer service is in our DNA. Whether it's by phone, email, live chat or text, get your questions answered fast by our friendly care team.
Social Promise
Make a difference! For every degree fully funded by CommonBond, we fund the education of a student in need abroad for a full year.
Minimum Eligibility Requirements
You have to be a U.S. citizen or permanent resident.
You must be an alumnus of one of the schools in our network.
---
2CommonBond is not affiliated with, nor does it endorse, any university or program.