Refinance Parent PLUS Loans: Pros and Cons
Email This Article
Current student loan refinance rates as low as 1.87% to 6.99%. Click here to find a preferred lender.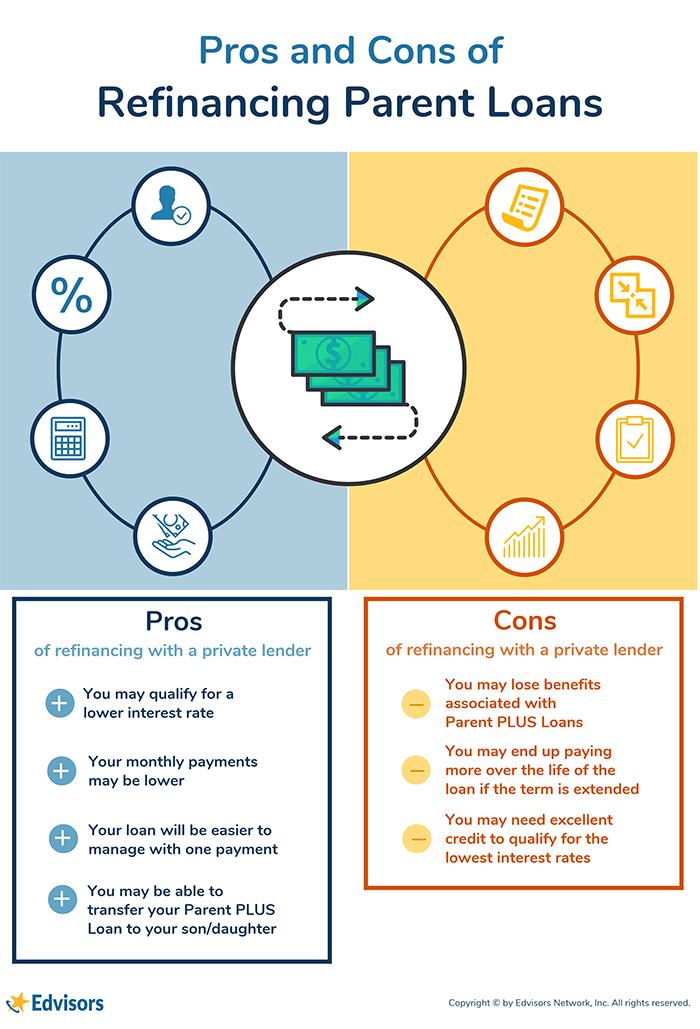 As college costs have climbed, many parents have shouldered the financial burden by taking out Parent PLUS Loans and private parent loans to cover the expenses. Of the parents who borrow to pay for a child's college education, the average loan debt is $30,000. Looking for ways to save money, many parents consider the option to refinance.
A lower interest rate is the key to cutting the cost of any loan. You may have heard about the (federal) Direct Consolidation Loan program as an option to combine multiple parent loans. While it is true that a Direct Consolidation Loan combines several Parent PLUS Loans into a single loan, it does not reduce the interest rate, nor does it allow you to include private loans. Federal consolidation does offer two primary benefits: extended repayment terms and renewed eligibility for deferment and forbearance (e.g., temporary suspension of payments under qualifying circumstances).
In contrast, private lenders offer parents the ability to refinance their federal Parent PLUS Loans, along with any private loans obtained. Some lenders (such as CommonBond and SoFi) even offer a refinance option that will transfer the parent debt to the student, subject to credit review and approval. Also with Parent PLUS Loan rates at 7.08% for the 2019-2020 award year, private lenders rates for borrowers who meet their credit requirements, may be more competitive. As a result, parents with strong credit may qualify for a better rate with a private consolidation loan. Lastly, most lenders do offer some form of forbearance assistance during repayment in the event of hardships; although these programs will not mirror Direct Consolidation options.
Pros of Refinancing Parent PLUS Loans with a Private Lender
You may qualify for a lower interest rate.
Your monthly payments may be lower, enabling you to pay off higher interest debt.
It may be easier to manage a single loan with a single payment.
It may be possible to transfer Parent PLUS Loan debt to the student.
Cons of Refinancing Parent PLUS Loans with a Private Lender
You will lose the benefits associated with Parent PLUS Loans, such as payment plans, deferment, and forbearance. (Remember, Parent PLUS Loans aren't eligible for income-based federal repayment plans, so you won't lose that benefit.)
You may end up paying more over the life of the loan if the term of your loan is extended.
You will need excellent credit to qualify for the lowest interest rates. To refinance a Parent PLUS Loan you will be required to complete a credit assessment—including debt-to-income review—unlike a Direct Consolidation Loan which is not credit-based.
Once you have considered the pros and cons, you can view your options for refinancing parent loans.