Parent PLUS Loan Refinancing and Consolidation
Email This Article
Current student loan refinance rates as low as 1.87% to 7.33%. Click here to find a preferred lender.
It's not uncommon for parents to take out Parent PLUS Loans to help pay for their child's education. When it comes time to repay these loans, refinancing or consolidation may make the most sense. Some parents also wish to explore transferring a Parent PLUS loan to the student via student loan refinance. Here are some things you need to know when looking to refinance parent student loans.
Parent PLUS Loan Refinance Rates
If you're looking to refinance, then interest rate is likely an important part of your decision making process. Each lender controls their own interest rates. The rate you are quoted depends on several variables, such as work history, credit history, and the current state of the financial market. Visit our compare lenders page to simplify the process.
*The lowest advertised rates may include a discount (typically 0.25%) that requires that you sign up for automatic monthly payments of principal and interest from a checking or savings account. The benefit may be discontinued or lost for periods in which you do not pay by automatic deduction from a savings or checking account. Rates are subject to change and are determined by your credit.
View My Student Loan Refinancing Options
Federal Parent PLUS Loan Consolidation
Parent PLUS Loans are issued by the Federal Direct Loan Program, which has its own Direct Consolidation Loan program. This program comes with certain benefits that loans from private lenders may not have. Let's look at what the Direct Consolidation Loan program offers.
A Direct Consolidation Loan combines all existing Parent PLUS loans into a single, new loan with a fixed interest rate equal to the weighted average of all the loans, rounded up to the nearest 1/8 of one percent. This means you may not be lowering your overall interest rate, but there are other benefits to consider.
Benefits of Federal Parent PLUS Loan Consolidation
It may reset your eligibility for deferment or forbearance. This means if you encounter a hardship, you may be able to postpone payments on the new Direct Consolidation Loan, even if you exhausted your deferment or forbearance benefits before consolidating the loans.
Direct Consolidation provides Parent PLUS Loan borrowers access to the income contingent student loan repayment plan. Those enrolled in this plan may also be eligible for Public Service Loan Forgiveness.
Based on your total outstanding student loan debt, you may be able to extend your repayment term (up to as many as 30 years). Extending your repayment term may cost you more over the life of your loan, but it can reduce your monthly payments to a more manageable amount.
If you have more than one servicer, combining your federal loans into one loan will make it easier for you to manage your loan repayment.
If you're looking to refinance Parent PLUS student loans the option of working with a private lender may be appealing. Whereas only federally issued loans are eligible to be consolidated with the Direct Consolidation Loan program, you can refinance both federal and private student loans with a private lender. Other refinancing benefits you may receive from a private lender include:
Lower, more competitive interest rates
Lower monthly payments
Extended loan terms
Fewer monthly payments
The flexibility to refinance federal loans only
Neither Direct Consolidation Loans nor private parent loan refinancing has prepayment penalties. With either option, paying your loan off early will save you money.
NOTE: You can choose to consolidate one or more of your federal Parent PLUS loans in the Direct Consolidation Loan program and still refinance your private parent student loans separately.
Important
Consolidating federal loans into a private consolidation loan means your lender will no longer be the U.S. Department of Education. You'll no longer be eligible for their generous student loan deferment or forbearance programs, and you won't have access to the income-contingent repayment plan or the public service loan forgiveness program.
Some private lenders offer their own programs to assist borrowers in times of financial hardship (for example, some private lenders offer short-term forbearance during times of unemployment). But the time frames are typically far shorter than what the government offers.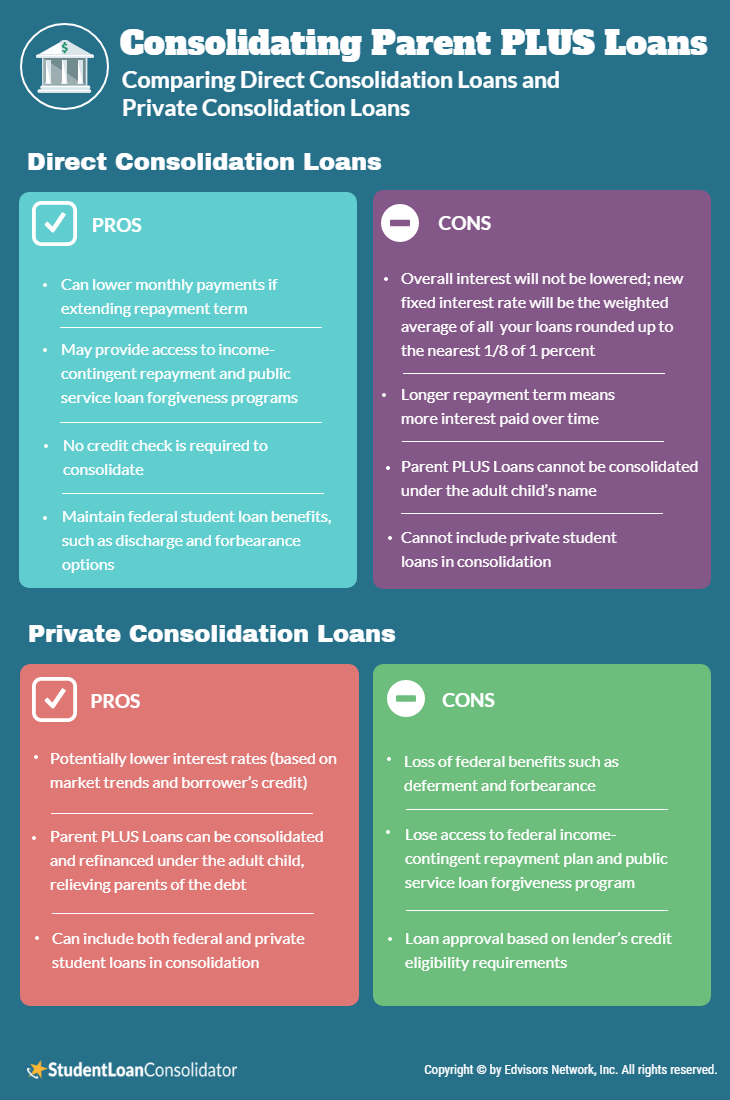 What to do next?
The pros and cons of refinancing Parent PLUS Loans