How to Pay Off Student Loans Faster
Current student loan refinance rates as low as 4.47% to 6.99%. Click here to find a preferred lender.
Whether you're a recent graduate or not, if you borrowed student loans you may be wondering about the best strategy to tackle them. You may be revisiting your student loan repayment strategy because you're trying to lower your interest rate, buy a house, need to help your child pay for college, or you're just tired of having that loan payment every month.
Whatever the reason, it's important to know that even large amounts of student loan debt can be conquered. You may just need to get creative. Nearly 70% of students graduate with loans, so you aren't alone in your situation.
All of the recommendations here are designed to help you cut expenses, take advantage of loan benefits, or extend your income so you can apply your excess cash to college loans.
Tips for Paying Off Student Loans
Budget
Establishing a budget is important when it comes to paying off your loans. And if you're serious about paying off your student loans faster, taking an aggressive approach is the best way to do it. Start by taking a look at all of your expenses over the last month and put them in two categories: essentials vs. non-essentials. A lot of people think that only the non-essential items (like going to the movies, or shopping, or dining out) are the primary areas to cut in their budget. But don't ignore the major expenses like groceries, housing and transportation.
Reduce Expenses
Could you drive a cheaper car or take public transportation? Either of these could bring hefty savings, not only from a reduced car payment, but from lower insurance rates, and saving on fuel costs as well.
What about moving into a less expensive house or apartment, or perhaps even taking in a roommate? Think creatively about ways to cut costs while avoiding splurges. This is the key to freeing up more money to apply toward debt.
Going to the grocery store with a list and coupons can help to prevent buying more than you planned for.
The common thread in all of these tactics? Reducing your spending by knowing where your money is going. A critical component to all budgeting is tracking your cash flow. You can use a simple budget spreadsheet or track your money on an app like EveryDollar, Mint, or Goodbudget Budget Planner that lets you sync and share a budget with a partner or roommate.
Remember, your long-term goals are worth the short-term sacrifices.
Student Loan Automatic Payment
Automatic payments can provide both peace of mind and a potential reduction in the overall cost of your loan. Most lenders offer an interest rate reduction (example: 0.25%) just for enrolling in automatic payments from your checking or savings account. This can help prevent missed payments (and the associated late fees and penalties), while also keeping your credit score healthy. Missing scheduled payments can be a setback when it comes to paying your loans off because it means playing catch up. And remember, auto payments do not prevent you from making extra payments! You can always set your auto payment to more than the minimum, or log into your student loan account and pay more.
Make Extra Student Loan Payments to Principal
There are no pre-payment penalties with student loans, so even an extra $20 or $30 a month can make a difference. You will pay your loan off faster, and reduce the overall amount of interest you pay over time. Your lender or servicer may automatically advance your next payment due date or show your loan as being 'paid ahead' when you send more than the minimum payment. Don't let that throw you off. Keep making your monthly payments (and paying more when possible) consistently.
This is important because your lender must apply your payment toward accrued interest prior to reducing your principal balance. The longer the number of days between payments, the greater the amount of interest that gets applied. While your due date may be advanced after making extra principal payments, if you don't continue to pay on time it could create an unintended negative effect.
There are exceptions to this, however. If you are late on any payments your lender reserves the right to charge a late fee, and any extra money you've sent—that you thought was going toward your principal balance—can be eaten up by those late fees instead.
Making additional payments can be easy when your budget isn't tight, but difficult when it is. To become successful at making additional payments you have to be consistent. Automating the process can help. We recommend checking out the ChangEd app. (Yes, there's an app for that!) ChangEd is an app that allows you to roundup daily purchases or schedule savings based off your habits. It will then project how much time and money you can save, as well as encourage you to save more when it sees an opportunity to save more! ChangEd even automates those savings as additional student loan payments so you can stay consistent without thinking about it. They can also provide you with a template letter to ask your loan servicer to apply all those extra payments to your principal, saving you even more money in the long run!
Best Student Loan Refinance Lenders
How to Make a Lump Sum Payment on Student Loans
Lump sum payments on student loans are awesome accelerators. If you get a tax refund, a birthday check from your Aunt, or a bonus at work, consider putting some or all of that money toward your debt.
Here's how.
Provide special payment instructions when you submit yourpayment. You will need to tell your lender or servicer to apply your lump sum payment toward your principal balance without advancing your next payment due date. And you should also specify if there is a particular loan, or group of loans, you want your payment applied toward. If you do not spell this out, your payments would follow a standard payment allocation which looks like this:
The current payment amount due gets paid first
If you have multiple loans, your lender will apply extra payments toward the loans with the highest interest rates
If you have unsubsidized and subsidized loans, your lender will pay your unsubsidized loans first
When making a lump sum payment, take the opportunity to dictate how that money is applied to best benefit you, not the lender.
Side Hustle
Side hustles are a great way to help tackle your student loan debt. Part-time work is easier to come by now more than ever thanks to the gig economy, and the advent of online marketplaces where you can offer your services. The opportunities are truly abundant if you're willing to work for them.
Side Hustle Ideas
Do you have a car? Uber, Lyft and GrubHub are amazing options. Work when you want and for how long you want.
Are you the biggest animal lover you know? Rover and Wag are the on-demand dog walking/sitting service for you! Make money while hanging out with a dog (this is also great if you want a dog, but can't afford one at the moment).
Are you a good writer? You could contribute content as a blogger to services like TextBroker.
Don't rule out any of your quirky talents either. Do you enjoy knitting or soap making? You can sell those items online. Consider Etsy, eBay or Facebook Marketplace.
Are you good at things like website design, social media, online research or even translation? Maybe you're a whiz with Excel, or just really handy? Sign-up to provide services through sites like Fiverr, Upwork and Task Rabbit.
How Long Does it Take to Pay Off Student Loans?
As a general rule, if the total amount of debt you owe at graduation is less than your expected starting salary you should be able to repay your loan within ten years. Of course, everyone will not be in this situation. Some individuals need to extend repayment beyond the standard 10–year repayment term; either because refinancing makes a lot of sense, or income-driven plans through the government are available.
But beware of repayment plans that may not move the needle on your principal balance. According to the Federal Reserve Bank of New York, during the 2nd quarter of 2019 only one-third of borrowers who were not delinquent on their loans had actually reduced their loan balance during the prior year. This means depending on the repayment plan you enter, it could take a really long time to repay your loans if you make only the minimum payments each month.
Steps to Paying Off Student Loans Faster
Prioritize student loan debt.
Create an honest budget
Use tools like ChangeEd to simplify the process of paying your student loans.
Pay more than the minimum, and request that additional money be applied to your principal balance.
Take on a side hustle to increase your cash flow
Student Loan Payment Calculator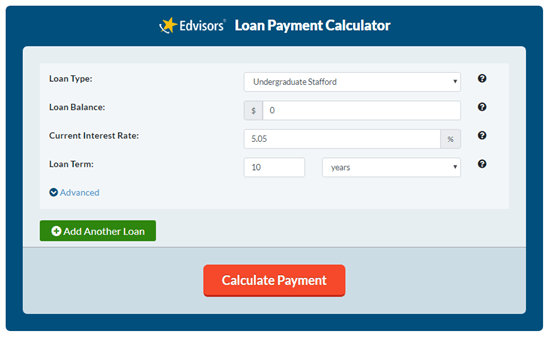 What to do next?
Learn more about how student loan refinancing and consolidation work
Compare private student loan refinancing lenders