HELOC to Pay Student Loans
Current student loan refinance rates as low as 1.87% to 7.33%. Click here to find a preferred lender.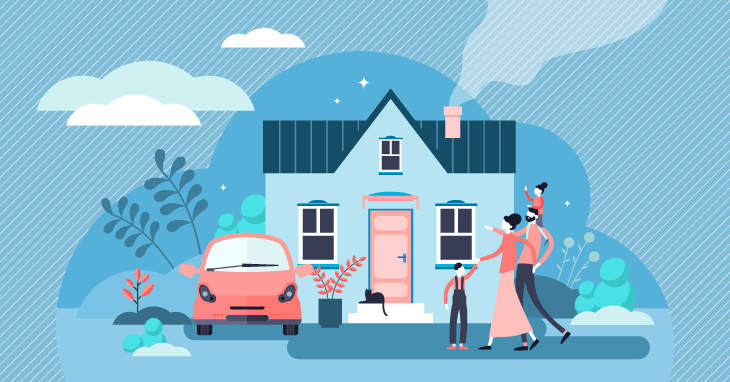 Thinking about leveraging the equity in your home to pay for a college education or repay student loan debt? Think again. There are several reasons you may want to reconsider this strategy. While a HELOC (home equity line of credit) can be leveraged for cash, there are some types of expenses where careful evaluation comes into play, and the differences between student loans and a HELOC are pretty substantial.
View My Student Loan Refinancing Options
For starters, HELOCs are secured loans just like your primary mortgage. The collateral is your house itself, which means if you run into financial distress, you run the risk of losing your home.
Depending on your circumstances, a HELOC may give you access to a high line of credit; maybe even enough to cover all of your family's educational expenses. And if the interest rates are low (assuming you qualify for a low rate that won't skyrocket—some rates are fixed and some are variable), that could be to your advantage.
However, a HELOC is not a guaranteed loan in the same way that a federal student loan is. It simply lacks certain protections and benefits that are unique to the Direct Loan program, and even some private student loan programs.
Using Home Equity to Pay Off Student Loans
Should you use your home's equity to pay off your student loans? It may not be a bad idea under certain conditions.
If the current rates being offered on a HELOC are lower than the interest rates on your student loans, it may be a good move. But if your goal is to reduce your APR and/or consolidate your debt, don't forget to also check out the rates that may be available through a refinanced student loan.
Refinancing is another opportunity to lower your APR, and reduce the number of loans you are paying each month. A student loan refinance with lenders we work with, also allows you to pay your balance off early with no prepayment penalties.
If you do decide to tap into your home equity to pay off student loans, just remember that you're simply transferring debt from one loan holder to another. You'll want to consider not only the interest rate, and loan consolidation benefits, but any other terms and conditions that may apply to the HELOC.
Before you make a decision, you should also consider the perks you will be giving up for any federal student loans you may have. There are a number of borrower benefits and protections that are available to you for the life of your loan. Things like income-driven repayment plans, the ability to utilize deferments, and possible federal student loan forgiveness would be forfeited if you pay off federal student loans with a HELOC.
Lastly, it may be worth having a conversation with your employer about potential student loan repayment assistance. A number of employers are now offering benefits that include help with student loan debt. This is a trend that is expected to grow in 2020. If you pay your student loan off with a HELOC, you would no longer have a qualifying student loan for this type of employer-sponsored program.
Student Loan or Home Equity: A Side-by-Side Comparison
A side-by-side feature comparison of a student loan versus a home equity line of credit
Feature
Student Loan
Home Equity (HELOC)
Secured loan?
No
Yes
Collateral
None, federal loans are
backed by the government.
Yes, your home!
Low interest rates
Yes
Possibly
Subsidized interest?
Yes, with some federal loans
No
Deferment options
Payments deferred while in school and during repayment, when needed.
Interest only payments are required during the draw period. Some lenders may require principal payments also.
Repayment begins
6 months after graduation
Interest is due during the draw, which could last 5 or 10 years. Full repayment is required thereafter. In some cases, this may be a balloon payment.
Death/Disability Benefits?
Yes, included
Additional insurance required
Ability to transfer the loan?
Through a refinanced loan, parents may be able to transfer educational debt borrowed on behalf of son/daughter to that child.
Most HELOCs are non-transferrable. This is true for person-to-person and bank-to-bank transactions. Consult an attorney for further guidance.
Repayment benefits
No penalty for prepayment, may qualify for income driven repayment or public service loan forgiveness.
Ability to take advantage of a long draw period. Usually a long repayment term (which may help with monthly payment amounts).
When it comes to swapping your student loan debt for a HELOC, we recommend making a list of what you want to accomplish with the HELOC (lower APR, fewer payments per month), and weighing all of your options, including student loan refinancing before you make a decision.
What to do next?