Funding U No Cosigner Student Loan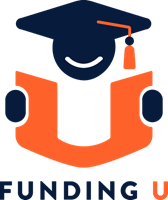 Funding U offers a merit-based, no-cosigner student loan for high-achieving undergraduate students.
Apply for a Funding U No Cosigner Student Loan
Benefits
No-cosigner student loans based on merit - not your FICO score
Quick prequalification and rate check that won't impact your credit
Up to $15,000 per academic year to help cover the cost of college
Rates (APR) from 7.99% to 12.49% (not including 0.5% discount for ACH auto-payments)*
Loan Eligibility
Students must be bachelor's degree candidates who are US citizens, permanent residents, or DACA recipients
Students must be enrolled in a 4-year, degree-granting, not-for-profit institution in the US
Students must be 18-years-old or the Age of Majority in the state which they reside
Students must meet minimum GPA and graduation rate thresholds
Funding U Merit-Based, No-Cosigner Student Loan

Recommendation
Best for Private Funding
Repayment Terms
10 years
$20 minimum/month OR interest-only payments while in school
Interest Rates
Fixed: 7.49% APR - 12.99% APR (not including 0.5% ACH discount)*
---
New student loans of $3,001 up to $15,000 per school year will be granted to residents of eligible states enrolled as undergraduates in bachelor's degree or equivalent- granting programs at eligible schools.
Funding U offers fixed interest rate loans, without a cosigner, to students who are serious about their academic success and post-grad career. Eligibility is determined by several factors, including: school graduation rate, class hours completed, estimated graduation date, academic record, major; employment or internship experience; and, other academic and non-academic activities that demonstrate the borrower is working hard towards academic and professional goals and is on track to be able to repay debt accrued.
Eligibility is also limited by state of permanent residence. Terms and conditions vary by state. Not all loans are available in all states. Loan amounts available may vary by state.
DISBURSEMENT All Loan proceeds will be sent to the student borrower's school around the time classes begin, on the date your school prefers. Funding U will require documentation to verify your registration and certify your loan need prior to disbursement. Your school must also certify your loan need. Your loan may be adjusted based upon the amount of need certified by your school.
REPAYMENT TERMS New Undergraduate loans for the 2021-2022 school year will have an Annual Percentage Rate (APR) of 7.49% to 12.99%. All loans have a fixed interest rate range of 7.49%* to 12.99% (before consideration of ACH discount). There is no origination fee. Interest accrues while students are in school.
In-school partial payments: Students may choose either $20 monthly as a "Fixed Payment" while enrolled in school or "Interest Only" payments. These payments will be reported to credit agencies like other student loans. All loans have a 10-year repayment term (paid monthly over 120 months starting 6 months after graduation). Both In-School payment options may not be available in all states. Student's electing to make Interest-Only payments will receive a 0.5% interest rate discount.
PREPAYMENT PENALTIES There is no prepayment penalty on your loan.
Additional details, terms & conditions will be included in each loan offer.
*The lowest rate shown is available only to juniors & seniors with outstanding academic performance and is not typical of the rates offered to most borrowers. Your actual rate will depend on creditworthiness and other factors, such as your school year and GPA.