Student loans pay for college or graduate school at thousands of schools across the country.
Seeking private loans to finish your undergraduate or graduate degree? CommonBond is one of the leading private lenders with competitive interest rates, and excellent repayment terms.Get the help you need to pay for school with CommonBond. We've got your back with competitive rates, award-winning service, borrower protections, and multiple repayment options. No hidden fees, no double-digit APRs here. And we offer resources to help you make the right personal finance choices.
We're on a mission to make student loans more affordable, more transparent, and easier to manage. We provide choices and support every step of the way, and take pride in being a partner on your educational journey. And the best part? With CommonBond, you'll always receive a competitive rate. No double-digit interest rates here.
Here's what you get when you choose CommonBond:
Flexibility: Since everyone's financial situation is different, we provide flexibility — so you can make the best descision for yourself –

Borrow up to 100% of your school's cost of attendance.
Loan terms of 5, 10, and 15 years, each available at both fixed and variable rates.
Multiple repayment options, from paying as you go while in school (in exchange for a lower rate) to completely postponing payments until you graduate.

Service: Our award-winning Care Team is available by phone, email, and live chat to answer any questions you have. Breathe easy — our experts know what you're going through!
Simplicity: With our easy online application, you can get approved in minutes. There are no pre-payment penalties and no hassles. No kidding.
Resources: We provide expert content, helpful webinars, and easy-to-use tools to help you understand the impact of your choices — so you can make the right decisions.
Social Promise: Your loan makes a difference. For every loan we fund we also fund the education of a child in need. We're the first — and only — lender to make that promise.
Apply for a CommonBond Private Student Loan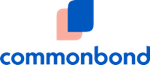 Eligibility
You must be a U.S. Citizen or permanent resident.
You must be enrolled at least half-time as a graduate student at one of the schools in our network.
---
Offered terms are subject to change. Loans are offered by CommonBond Lending, LLC (NMLS # 1175900). The following table displays the estimated monthly payment, total interest, and Annual Percentage Rates (APR) for a $10,000 loan. The Annual Percentage Rate (APR) shown for each in-school loan product reflects the accruing interest, the effect of one-time capitalization of interest at the end of a deferment period, a 2% origination fee, and the applicable Repayment Plan. All loans are eligible for a 0.25% reduction in interest rate (ACH discount) by agreeing to automatic payment withdrawals once in repayment, which is reflected in the APR shown for Full Principal and Interest Repayment Plan loans. Variable rates may increase after consummation. All variable rates are based on a 1-month LIBOR assumption of 0.99 as of April 25, 2017.
Under the Full Deferment Repayment Plan option, interest and principal may be deferred while a borrower is enrolled in school on at least a half time basis, and for an additional six month grace period (up to a maximum of 60 consecutive months) following (i) graduation, (ii) termination of enrollment, or (iii) if a borrower ceases enrollment on at least a half-time basis, at which time interest is capitalized and a 60-month repayment period (5-year term), a 120-month repayment period (10-year term) or a 180-month repayment period (15-year term) begins. There are three other Repayment Plan options available, an Interest Only Repayment plan, in which principal will be deferred and payments made on interest only during the same period described above after which payments will increase to full principal and interest payments, a Flat Repayment plan, in which payments of $25 will be made during the same period described above after which payments will increase to full principal and interest payments, and a Full Principal and Interest Repayment plan, in which payments will begin immediately after disbursement. A borrower's actual APR may vary depending on the repayment option selected by the borrower. The dollar amount of the origination fee is based on the amount borrowed and will be added to the outstanding loan balance upon disbursement. Loans are not offered or endorsed by the educational institution that you are attending. CommonBond is not affiliated with any educational institution.
For more information, visit https://commonbond.co/disclaimers#note3.