Elaine Rubin
Director of Corporate Communications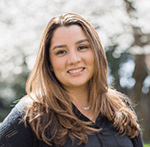 Elaine Rubin is the Director of Corporate Communications at Edvisors. Elaine is responsible responding to press and media inquiries, as well as serving as the lead contributor for the Edvisors blog and the Ask the Edvisor column. She has worked in higher education access and finance for more than 13 years, including seven years with the U.S. Department of Education's office of Federal Student Aid, and three years as a regulatory analyst for a nationwide student loan guarantor.
Elaine volunteers in the local Las Vegas community to help students and families understand the importance of education for success. She also sets aside time to answer questions or go live on our Edvisor social media pages to help students in real time in both English and Spanish. As a first-generation college student from a multicultural background, she brings her personal and professional experience to help others find a path to their own success. She paid for college with a combination of federal and private student loans, scholarships, grants, working, and savings. She holds a Bachelor of Arts degree in Political Science with a concentration in Public Policy and Administration from Northeastern University.
Elaine has been featured in CNBC, Wall Street Journal, MarketWatch, Fox News, Yahoo News, U.S. News and World Report, and Cosmopolitan.
[email protected]